return to

california map
Blick in Pasadena, CA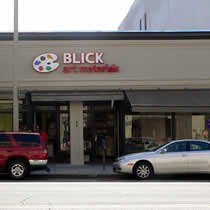 Address:
44 South Raymond Avenue
Pasadena, CA 91105

Phone: (626) 795-4985
Fax: (626) 795-5665
Store Hours:
Mo-Fr: 9-8
Sa: 9-7
Su: 10-6
Free one-and-a-half hour parking is available across the street in the old school house parking garage.
Upcoming Events
Pasadena Art Walk
Date: 10/11/2014 - (one-day event)
Location: Playhouse District
Blick Art Materials Pasadena is a proud supporter of the 9th Annual Pasadena Artwalk in the Playhouse District on 10/11 from 11am to 5pm. See our booth for a great selection of art supplies! Click below for more information.
Note:
Prices and selection may vary between the internet and our retail stores, and all prices are subject to change without notice.
All of our locations are company owned and operated.