return to

california map
Blick in Los Angeles, CA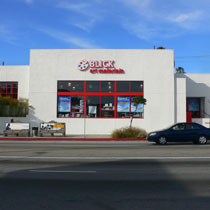 Address:
7301 West Beverly Boulevard
Los Angeles, CA 90036

Store Hours:
Mo-Fr: 9-8
Sa: 9-7
Su: 11-6
Located at Beverly Boulevard and Poinsettia Place. Free parking is available in the garage below the store.
Upcoming Events
LA Brewery Artwalk
Date: 4/26/2014 - 4/27/2014
Location: In Store
Be sure to stop by our store during the LA Brewery Artwalk this weekend, 4/26-4/27 to pick up a COUPON and shop around!
Note:
Prices and selection may vary between the internet and our retail stores, and all prices are subject to change without notice.
All of our locations are company owned and operated.