return to

california map
Blick in Berkeley 811 University, CA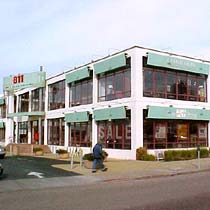 Address:
811 University Avenue
Corner of University & 6th
Berkeley, CA 94710

Phone: (510) 486-2600
Fax: (510) 486-2610
Store Hours:
Mo-Sa: 9-8
Su: 11-6
Free parking is located in the lot directly in front of the store.
Upcoming Events
CALL FOR ART! - SCARY SELFIE ART SHOW
Date: 10/19/2014 - 10/30/2014
Location: In Store
CALL FOR ART! You have until 10/19 to submit your creepiest self portrait art for our SCARY SELFIE ART SHOW! You'll have a chance to win up to $100 in store gift cards. Voting will occur 10/19 through 10/29. Be sure to join us for our reception on 10/30!
All artwork must be 2-D and ready to hang upon submission. Artwork must be tasteful in nature and final approval is at store management's discretion. Contact the store for details.
Note:
Prices and selection may vary between the internet and our retail stores, and all prices are subject to change without notice.
All of our locations are company owned and operated.