return to

california map
Blick in Berkeley 1909 University, CA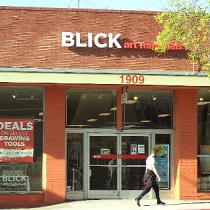 Address:
1909 University Avenue
Berkeley, CA 94704

Phone: 510-649-0808
Fax: 510-649-1848
Store Hours:
Mo-Sa: 10-6
Su: 12-5
Our nearest BART station is Downtown Berkeley.
The nearest Bus Stations are: 88 bus stop, 51 bus stop, and 52 bus stop.
To learn about upcoming in-store events, please visit your local store and follow us on Facebook!
Note:
Prices and selection may vary between the internet and our retail stores, and all prices are subject to change without notice.
All of our locations are company owned and operated.