return to

arizona map
Blick in Tempe, AZ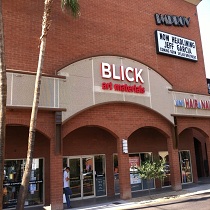 Address:
930 E. University Drive
Tempe, AZ 85281

Phone: 480-446-0800
Fax: 480-446-0888
Store Hours:
Mo-Fr: 9-7
Sa: 9-6
Su: 11-5
Upcoming Events
Halloween Mask Demo Weekend
Date: 10/25/2014 - 10/26/2014
Location: In Store
Come create a masterpiece mask for Halloween from 12-4pm 10/25 and 10/26. We will be giving away $25 store cards in hourly drawings!*. AND receive 20% off of non-sale items for these two days only!
*No purchase necessary. Must be present to win. See store for full raffle details.
Note:
Prices and selection may vary between the internet and our retail stores, and all prices are subject to change without notice.
All of our locations are company owned and operated.