Naturally Green: Strathmore's Greener Options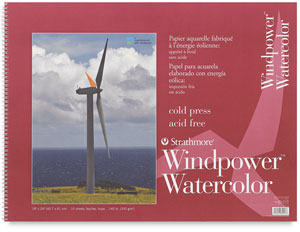 According to the non-profit Center for Resource Solutions (CRS), more than 80 percent of manmade U.S. greenhouse gas (GHG) emissions arise from burning fossil fuels such as coal, oil and natural gas. Furthermore, businesses currently account for 50 percent of all U.S. energy consumption. Switching to renewable energy or "green power" significantly reduces energy-related GHG emissions and, therefore, is an effective business strategy for combating climate change.
As an alternative energy source, wind power is now increasing in popularity across the United States. A highly renewable resource that is readily abundant and reliable, it is inherently one of the cleanest sources of power available, it does not contribute to global warming, nor does it produce any form of harmful waste. In addition, wind power conserves natural resources, using less than 5 percent of the land on which it is sited, minimizing habitat destruction and preserving open spaces.
One of the things we at Blick love about Strathmore is its long-standing tradition of environmental stewardship. Back in 1972, Strathmore pioneered the industry's first line of recycled artist papers. More recently, the company introduced the first line of artist papers manufactured with 100% certified renewable energy.
Blick Art Materials proudly carries Strathmore's Windpower Series, which includes drawing pads, watercolor pads, and sketch pads. High-quality artist papers made with 100 percent wind power, the Windpower Series is produced using a pollution-free, renewable energy resource. All art supplies in this series are manufactured with emissions-free, wind-generated electricity through the purchase of 100 percent renewable energy credits, certified through the Green-e Marketplace Program administered by the CRS.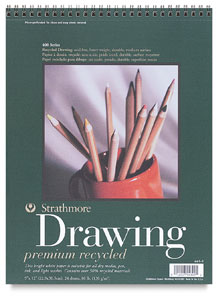 Strathmore also offers a variety of art supplies made from recycled materials and alternative fibers that are considered environmentally friendly. The company's Premium Recycled Series and Artagain pads maximize the use of recycled fibers to include high levels of post-consumer waste fibers. By using recycled materials in the paper-making process, the company is helping to divert waste from landfills, consume less energy, and use less water than with virgin fibers.
Strathmore also continues to grow its collection of art supplies that use alternative, "tree-friendly" fibers, such as cotton and hemp. The company's cotton-based papers are made from cotton rags and recovered by-products of plants already grown for use in the textile industry. In addition, both cotton and hemp grow faster than trees, and harvesting them does not disturb natural ecosystems. In fact, one acre of hemp can produce as much usable fiber as four acres of trees. Hemp can also be pulped using fewer chemicals than wood because of its low lignin content, and its natural brightness eliminates the need for chlorine bleaching. Another advantage is that paper made from hemp can be recycled several more times than wood-based paper.
To read more about Strathmore's greener options in fine art supplies, click here.
Check out all Strathmore products available at Blick Art Materials online.