Teacher News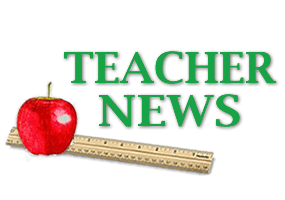 Teacher News
Q & A Section
QWhat is the difference between earthenware clay and stoneware clay?
A

Most people won't be able to tell the difference between these two unfired clay bodies when placed side by side. The primary difference between earthenware clay and stoneware clay is the maximum firing temperature. Earthenware clays fire at temperatures up to 2205°F (Cone 06 to Cone 5), while stoneware clays need to be fired at much higher temperatures - up to 2400°F (Cone 5 to Cone 10). Earthenware clay will melt if fired at high-fire temperatures, and stoneware will not reach its full strength if fired at lower temperatures, so it's important to know the difference.
Stoneware vitrifies when it reaches a high enough temperature. This means the particles that make up the clay fuse or melt, making it strong, glass-like, and impervious. Low-fire earthenware clays never fully vitrify, so they are more porous in nature and not as strong. They can easily be scratched or chipped.
Earthenware bodies can be very white, making them suitable for clear, bright colors. Terracotta, gray, and brown clay bodies also fall into the low-fire category. Pieces incorporating detailed decorations are also more suited to low fire because the glazes stay very stable and don't move as much during firing. Glazing low-fire clay can make it more impervious and stronger. Stoneware is waterproof without the addition of a glaze, but when glazes are applied, they meld with the clay body and become very durable. High-fire clay bodies do not have as much variance in color - they're usually buff, cream, or light brown.
If you have questions regarding any art materials and their uses, please contact our Product Information Experts at 800-933-2542 between 8 a.m.-5:30 p.m. (CT), Monday through Friday.
Blick offers new 'Future Orders' option for educators and schools

A great way to get the supplies you need, when you need them!
A new program from Blick is making life easier for educators and schools. "Future Orders" is an ordering and payment option that encourages educators to order the supplies they need for the fall semester before the school year ends in the spring. Just imagine — no scrambling at the beginning of the school year to make sure you have all the supplies you need!
Blick's Future Orders program offers two primary advantages:
Product availability is much better when you order in advance.
Because no payment is due until your order ships, your future payment obligations align with the upcoming school year.
Here's how future ordering works:
Put together your fall supply list before the end of the current school year.
Include the date you'd like your order to ship — this is your "future ship date." If ordering online, select I would like this order to be billed and shipped to me at a future date at the Shipping & Delivery screen.
Blick will pack and hold your order until that date — helping you beat the Back to School rush!
You won't receive an invoice until your order ships.
To order, choose the method that's easiest for you:
Shop online at DickBlick.com
Fax your order to 800-621-8293.
Email your order to orders@DickBlick.com.
Call us at 800-447-8192. We're ready to take your order 24 hours a day, seven days a week.
Blick Grant Recipients attend 2014 NAEA Convention in San Diego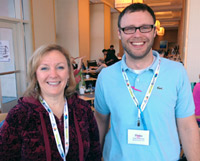 Again this year, Blick Art Materials made it possible for two deserving art educators to attend the annual NAEA (National Art Education Association) convention.
Carolyn Frances (From Zephyrhills High School in Zephyrhills, Florida) and Pete Edwards (from Madison Central High School in Richmond, Kentucky) were awarded grants to attend the 2014 NAEA Convention in San Diego, California, on March 29-31, 2014.
The grant recipients were selected in a random drawing from more than 2,000 entries at state art education association conferences in October and November of 2013.
A drawing will be held to award grants to attend the 2015 NAEA Convention in New Orleans, Louisiana, from entries submitted at state art education association conferences in October and November 2014. The estimated value for each grant is $2,000 and includes:
Registration for the 2015 NAEA convention
Up to four night's lodging
Travel expenses and daily expenses
Blick supports state art education organizations and the NAEA by attending conferences, advertising in organization publications, conducting workshops, and providing door prizes, handouts, and product samples.
Blick also understands the value of professional development and peer interaction for art teachers, and knows that all too often attendees at both state and national conferences must pay for their registration and travel expenses out of their own limited funds. Rewarding educators who attend their state conferences is another way Blick shows support, by providing an opportunity only a small number of art educators ever have - the chance to attend the NAEA's annual convention.
If you haven't attended your state or national art education association conference, it's time to look into taking advantage of the great experiences and resources they offer. Click here to learn more about NAEA today.
Blick welcomes visitors to the 2014 National Art Education Association conference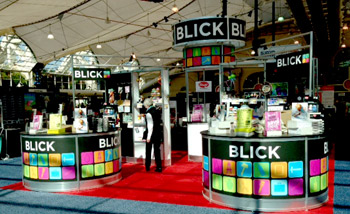 When the exhibit hall doors opened at the San Diego Convention Center on March 29, 2014, Blick Art Materials was pleased to be the first to welcome NAEA conference attendees. More than 4,000 visitors to the colorful Blick booth were greeted with a free gift of a canvas organizer bag, plus Blick's new lesson plan brochure. Visitors also had an opportunity to view each of the 14 projects featured in the brochure, and learn about the materials used in creating them.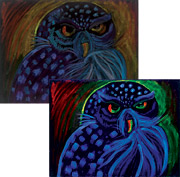 Art educators also were invited to participate in hands-on activities that included creating a Black Velvet Mystery Painting using Sakura Expressionist Oil Pastels enhanced with Tri-Art UVFX Poster Paints. The finished artworks were placed inside a black light booth to demonstrate the glowing results. For a PDF of the lesson plan, click here.
Using Blick Matte Acrylics and Jacquard Lumiere Colors, visitors also created a Creative Quill Pen. Click here for a PDF of this lesson plan.
As a Platinum Sponsor, Blick is proud to continue its support of NAEA beyond the convention and also to support state art education organizations by attending conferences, advertising in organization publications, and providing door prizes, product samples, and workshops.
Blick's 2014 School Catalog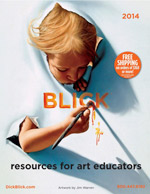 Blick's broad spectrum of products caters to the youngest child ready to scribble with his or her first crayon, to well-known, gallery-represented professionals. Our 2014 catalog is no exception. You'll find thousands of art materials designed to help artists of all ages learn, grow, and transition from the classroom to the world at large. It's a portal to the world's best products and the world's best-known brands. Request a free copy by emailing info@dickblick.com.
New Lesson Plan Brochure!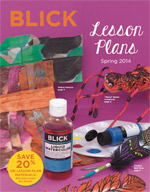 Check out 14 brand new Blick lesson plans for K-12 education - something for all ages, skill levels, and budgets. Request a free copy by emailing info@dickblick.com. Type "Spring 2014 Lesson Plan Brochure Request" in the subject line, and be sure to provide your name and complete mailing address in the body of the message. Or, to download free PDFs of the lesson plans, click here.
Blick Congratulates 2014 Scholastic Art & Writing Medalists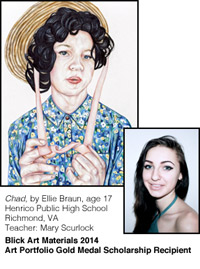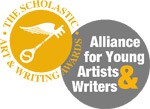 As a Presenting Sponsor of the Scholastic Art & Writing Awards, Blick Art Materials congratulates the program's 2014 award winners. Blick is proud to continue its support of the country's oldest and most prestigious award and recognition program for creative teenagers, which includes:
Contributing gift coupons to affiliates who administer art exhibitions and ceremonies at the local level, and to the teachers of national Gold Medal and Silver Medal winners in the art category.
Helping fund scholarships for Scholastic Art Portfolio Gold Medal recipients.
Sponsoring the national touring exhibition.
The Alliance for Young Artists & Writers presents more than $250,000 annually in awards and scholarships to top winners of the Scholastic Art & Writing Awards and their teachers.
Students who win at the regional level have their work showcased in more than 70 art exhibitions in museums and galleries across the country. Approximately 300 works of art and writing created by the National Award winners will be included in the ART.WRITE.NOW NYC national exhibition in New York City in June 2014.
For a list of the 2014 National Scholastic Art & Writing Award Winners, and to learn more about the Alliance for Young Artist & Writers visit http://www.artandwriting.org
Enter for a Chance to Win a Blick Printing Press & Bench - a $4,000 Value!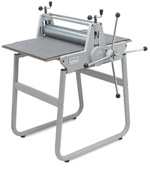 Artists, students, teachers, and schools are invited to enter the Clear Carve Print Contest for a chance to win a Blick Masterpress Etch Model II Printing Press and Bench.
To enter:
Create a print using Jack Richeson "Clear Carve" Linoleum.
Email your entry to clearcarvecontest@gmail.com.
Please include the following:

Your name, address, phone number, and email address.
One image of your finished artwork. Please label your image (i.e., johnsmith.jpg). If you are entering on behalf of a school, also include the name of the school (i.e., johnsmith.hometownschool.jpg).
One image of your Richeson Clear Carve linoleum block with the barcode clearly visible. Please label this image (i.e., johnsmith2.jpg).
All entries must be submitted by August 1, 2014. The winner will be announced on the Blick website (DickBlick.com) and the Jack Richeson & Co., Inc. website (richesonart.com) on October 1, 2014.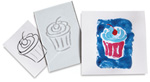 No entry fee is required. Multiple entries are encouraged. Employees of Blick Art Materials and Jack Richeson & Co., Inc. are not eligible to participate. Selection of the winner is at the sole discretion of Jack Richeson & Co., Inc.
Winners Announced in Illinois Tollway 2014 Map Cover Art Contest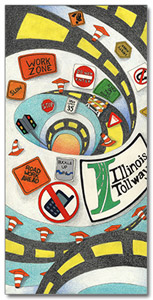 Crystal Thorns, a senior at Lincoln-Way North High School in Frankfort, Illinois, is the grand prize winner of the 2014 Illinois Tollway Map Cover Art Contest.
High school students in the 12 counties served by the Illinois Tollway were invited to submit original works of art based on this year's contest theme - "Work Zone Safety."
Students selected as runners-up in the contest include:
First runner-up - Vlad Malinovic, Lyons Township High School, LaGrange, Illinois
Second runner-up - Austin Rice, Lyons Township High School, LaGrange, Illinois
Third runner-up - Nathan Eisenhut, Downers Grove North High School, Downers Grove, Illinois
Artwork created by the grand prize winner will be featured on the cover of the Illinois Tollway 2014 map, which is distributed at no cost to more than 125,000 tollway customers. Thorns was also presented with $400 in gift certificates from Blick Art Materials and $200 in gift certificates from U.S. Equities to use at retail shops and restaurants at Illinois Tollway Oases. The runners-up received $200 in gift certificates from Blick Art Materials and $100 in gift certificates from U.S. Equities.
"I'm thrilled that my artwork will contribute to efforts to promote work zone safety on the Illinois Tollway," said contest grand-prize winner Crystal Thorns.
"We are thrilled to see the level of participation in the student art contest," said Blick Art Materials Chief Executive Officer Bob Buchsbaum. "So many innovative designs from young students makes us excited about the future."
To view all finalist artwork, visit http://www.illinoistollway.com/news-room/map-cover-art-contest
Linoleum Block Print Contest Discontinued