Teacher News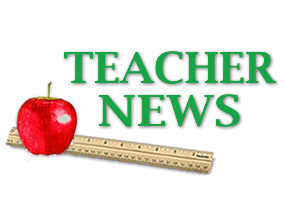 Teacher News
Award to be presented at October 5 New York City Gala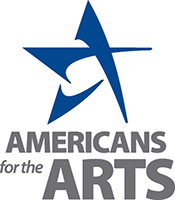 Thursday, July 14, 2016
Blick Art Materials CEO Robert Buchsbaum to receive BCA Leadership Award from Americans for the Arts
Award to be presented at October 5 New York City Gala
Americans for the Arts, the nation's leading non-profit organization for advancing the arts and arts education, today announced that Robert Buchsbaum, Chief Executive Officer of Blick Art Materials, will receive the 2016 BCA Leadership Award. Presented by the Business Committee for the Arts (BCA), a division of Americans for the Arts, the annual award recognizes individuals for their extraordinary vision, leadership, and commitment to supporting the arts and for encouraging other businesses to follow their lead.
Buchsbaum joined Blick in 1996 and successfully restructured the company, helping turn Blick into the nation's premier art supply source. In 2013, Blick absorbed Utrecht Art Supplies and now has more than 70 retail stores across the country, selling art materials that cater to the full spectrum of artists — from the youngest child to gallery-represented professionals. Over the past 15 years, under Buchsbaum's leadership, Blick has made financial contributions of at least $475,000 a year to programs and organizations that support the arts and arts education.
Buchsbaum's commitment to leadership is also shown through Blick's support of the National Art Education Association, the Arts Action Fund — a 501(c)(4) non-profit organization affiliated with Americans for the Arts — and the Scholastic Art & Writing Awards, as well as his personal board representation with the National Art Materials Trade Association and Marwen, a non-profit dedicated to educating and inspiring under-served young people through the visual arts.
The legacy of Buchsbaum's leadership is connected to his grandfather, Robert Metzenberg, who bought the company from Dick Blick in 1948 and was instrumental in its post-World War II growth. Metzenberg's dream was to see that every artist, art teacher, and sign painter had mail-order access to the tools of the trade.
"I am honored to be named BCA's 2016 Leadership Award honoree, in recognition of Blick's long history of advocating for and supporting the arts," said Buchsbaum. "We look forward to continuing our support of the Arts Action Fund in creating opportunities for every American to participate in and appreciate the arts."
"I congratulate Robert Buchsbaum, whose long history of dedication, forward-thinking leadership, and support for the arts has been unwavering. He truly believes in the power and benefits of the arts in everyday society," said Robert L. Lynch, president and CEO of Americans for the Arts.
BCA Leadership award honorees are selected by the BCA Executive Board. Buchsbaum will receive his award at the BCA 10: Best Businesses Partnering with the Arts in America gala on October 5, 2016, a black-tie affair at the Loeb Boathouse in New York City's Central Park.
Every year, through the BCA 10 awards, the Business Committee for the Arts honors 10 U.S. companies for their exceptional commitment to the arts through grants, local partnerships, volunteer programs, matching gifts, sponsorships, and board membership.
The 2016 BCA 10 honorees are Austin Energy; Badger Meter; CopperPoint Insurance Companies; Dealer.com; Dogfish Head Craft Brewery; Dunlap Codding; Johnson & Johnson; M Powered Strategies, Inc.; Northern Trust; and Procter & Gamble. In addition, Aetna Inc. will be presented the 2016 BCA Hall of Fame Award, which recognizes companies that have exhibited exceptional long-term vision, leadership, and commitment to developing alliances with the arts.
For information regarding BCA 10, please contact Jessica Gaines, Business Committee for the Arts Coordinator at (212) 223-2787or via e-mail at jgaines@artsusa.org.
Americans for the Arts is the leading nonprofit organization for advancing the arts and arts education in America. With offices in Washington, D.C. and New York City, it has a record of more than 50 years of service. Americans for the Arts is dedicated to representing and serving local communities and creating opportunities for every American to participate in and appreciate all forms of the arts. Additional information is available at www.AmericansForTheArts.org.
Founded in 1967 by David Rockefeller, the Business Committee for the Arts (BCA), a division of Americans for the Arts, encourages, inspires, and stimulates businesses to support the arts in the workplace, in education, and in the community. The Business Committee for the Arts merged with Americans for the Arts in 2008.
Visit www.pARTnershipmovement.org for more information.
Art Room Favorites 2016 Prize Drawing
TEACHERS & PROGRAM LEADERS -- Enter to WIN A FREE KIT packed with some of our most popular art room essentials. Click here for details on how you can enter this year's drawing for $500 in classroom supplies!
CONGRATULATIONS to the following schools whose names were drawn in Blick's 2015 Art Room Favorites Drawing.
Cross Creek High School — Augusta, Georgia
North Warren Elementary School — Smiths Grove, Kentucky
Chattanooga Christian School — Chattanooga, Tennessee
Sheboygan Falls Middle School — Sheboygan Falls, Wisconsin
Gloucester County Christian School — Sewell, New Jersey
Fall 2016 Lesson Plan Brochure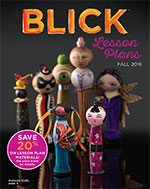 Check out 14 Blick lesson plans introduced in 2016 for K-12 education — you'll find something for all ages, skill levels, and budgets. Request a free copy by emailing info@dickblick.com. Type 'Fall 2016 Lesson Plan Brochure Request' in the subject line, and be sure to provide your name and complete mailing address int he body of the message. Or, to download free PDFs of the less plans, click here
Blick is proud to be a Diamond Sponsor of the 2017 NAEA Convention
Blick Art Materials is pleased to support the 2017 NAEA Convention as a Diamond Sponsor. Blick welcomes educators to visit its expansive exhibit space March 2-4, 2017, at the Hilton New York, New York, NY.
Visitors to the Blick exhibit will receive a canvas jacketed sketchbook plus a free brochure packed with implementation tips for 14 innovative and all-new Blick lesson plans for the classroom. Completed artwork of all lesson plans will be on display.
Booth visitors will have an opportunity to create two newly introduced 2017 lesson projects.
As a Diamond Sponsor, Blick is proud to continue its support of NAEA beyond the convention and also to support state art education organizations by attending conferences, advertising in organization publications, and providing door prizes, product samples, and workshops.
2017 Blick NAEA Convention Grant Drawing
Blick continues its supportive tradition of holding a drawing from entries received at AEA conferences during October and November 2016. Two grant recipients will be drawn from entries submitted at the Blick Art Materials booth during fall 2016 state art education association conferences. Each grant recipient will receive:
Registration to the National Art Education Association Conference in March 2017 in New York, NY
Up to four nights lodging
Travel and daily expenses
The estimated total value for each grant is $2,000.
2016 grant recipients, drawn from more than 2,000 entries, were:
Kim Martiny, Central Intermediate School, Rhinelander, WI
Lori Taylor, Cambridge Middle School, Cambridge, OH
'With Art I Can...' Mixed Media Contest Entries Invited

Blick's 2nd annual Mixed Media Contest invites students in grades K-12 to express their experiences and accomplishments gained through art — a chance for students to speak out as art advocates!
Entries are due by April 14, 2017. Complete rules are available here and in Blick's 2016 Materials for Art Education catalog.
Selected artworks by finalists will be printed as part of complimentary Art Advocacy Poser Set available to attetendees of NAEA affiliated conferences and as a downloadable digital slideshow. A gallery of 2015 Gold and Silver Medalists is available here.
Illinois Tollway Map Cover Art Contest is announced by the Illinois Tollway, Blick Art Materials and MB Real Estate

The Illinois Tollway, Blick Art Materials and MB Real Estate invite high school art students to participate in the 2017 Tollway Map Cover Art Contest.
'This year's art contest challenges students to think about the future and how the Illinois Tollway can use technology and innovation to improve transportation,' said Illinois Tollway Executive Director Greg Bedalov. 'Today's high school students will be our customers tomorrow, so we are interested in their vision of how our roadways will address their needs.'
Artwork should focus on how emerging technology and innovations on the Illinois Tollway will benefit drivers by:
Providing new and improved services
Creating a more efficient, reliable way to communicate with drivers
Ensuring greater safety
More than 300 high schools in the 12 counties served by the Illinois Tollway have been sent information about this year's contest. Art contest entries will be accepted beginning September 12, 2016, and must be postmarked no later than October 13, 2016.
Artwork created by the grand prize winner will be featured on the cover of the Tollway's 2017 map, which is distributed at no cost to more than 75,000 customers. The grand prize winner and three runners-up will be featured in the Tollway's annual report. Awards include:
Grand prize winner: $400 gift certificate from Blick Art Materials and $200 in gift certificates from MBRE to use at oases retail shops and restaurants
Runners-up: $200 gift certificate from Blick Art Materials and $100 in gift certificates from MBRE
A certificate of appreciation for all students who participate in the contest
Acknowledgement of winners at the Illinois Tollway Board of Directors meetings on November 17, 2016
'Blick Art Materials is pleased to support the efforts of student artists to promote technology and innovation on the Illinois Tollway system,' said Blick Art Materials Chief Executive Bob Buchsbaum. 'We are always impressed with the creativity of the participants in the art contest and are particularly excited about this year's contest theme.'
The 2017 Tollway Map Cover Art Contest rules and all required entry forms are posted on the Tollway's website at www.illinoistollway.com.
In 2017, the Tollway will roll out the first SmartRoad on the Jane Addams Memorial Tollway (I-90) incorporating active traffic management, integrating transit and delivering a 21st century corridor. SmartRoad will provide real-time travel information via dynamic electronic signage, integrate Flex Lanes for Pace buses to provide reliable service and include flexible technologies so new smart features can be added as they come online in the years ahead.
Congratulations to the 2016 winners:
Grand Prize — Theresa Kerouac of Lake Forest High School
First Runner-up — Perri Bentley, Bolingbrook High School
Second Runner-up — Cecilia Schmitt, Hononegah High School
The Council for Art Education announces 2015 Youth Art Month award winners
The Council for Art Education is excited to announce the recipients of the 2015 Youth Art Month Awards. The Council for Art Education Board of Directors voted to recognize the following states and individuals for its 2014/2015 Youth Art Month Programs.
Claire Flanagan Memorial (Grand) Award
Texas: Chris Cooper, VP of Youth Art Month
Award of Excellence
Georgia: Katie Vanhoff and Whitney Riker, Co-chairpersons
New Jersey: Patricia Branch and Teri Trumpbour, Co-chairpersons
Virginia: Jessica Beach, Chairperson
Award of Merit
Alabama: April Jones, Chairperson
Illinois: Greg Petecki, Chairperson
New Mexico: Vicki Breen and Sherri Smith, Co-chairpersons
New York: Julia Lang-Shapiro and Donnalyn Schuster, Co-chairpersons
Wisconsin: Tiffany Beltz, Chairperson
Special Recognition
Oklahoma: Michelle Barnes and Sarah Carnes, Co-chairpersons
Utah: Elizabeth Sampson, Chairperson
To be eligible for an award, state chairpersons submitted documentation of their Youth Art Month programs. Documentation was evaluated across a variety of key categories, based on predetermined criteria.
Awards will be presented on March 17-19, 2016, at the 2016 National Art Education Association (NAEA) Convention in Chicago, Illinois.
Sponsored nationally by The Council for Art Education, Youth Art Month is an annual observance designed to emphasize the value of art education for all youth and to encourage support for quality school art programs. Typically held in March, Youth Art Month provides a forum for acknowledging the imagination, innovation, and creative skills that a visual arts experience can nurture. Across the country, students, teachers and communities direct attention to the value of a visual arts education that develops divergent and critical thinking, multicultural awareness, technical communication, and expressive skills.
To find out more about Youth Art Month or to participate in Youth Art Month activities, contact your state chairperson, state art education association, or The Council for Art Education.
The Council for Art Education (CFAE) is a non-profit 501(c)(3) association created in 1984 through The Art & Creative Materials Institute, Inc. (ACMI). ACMI seeks to promote safety in art and creative products through its certification program, and is a major sponsor of CFAE.
For more information contact Susan Kelly, youthartmonthcfae@gmail.com
Blick offers 'Future Orders' option for educators and schools

A great way to get the supplies you need, when you need them!
Blick's "Future Order" program makes life easier for educators and schools. "Future Orders" is an ordering and payment option that encourages educators to order the supplies in advance of the next semester. Just imagine — no scrambling at the beginning of a new semester to make sure you have all the supplies you need!
Blick's Future Orders program offers two primary advantages:
Product availability is much better when you order in advance.
Because no payment is due until your order ships, your future payment obligations align with the upcoming school year.
Here's how future ordering works:
Put together your supply list before the end of the current semester.
Include the date you'd like your order to ship — this is your "future ship date." If ordering online, select I would like this order to be billed and shipped to me at a future date at the Shipping & Delivery screen.
Blick will pack and hold your order until that date — helping you beat the new semester rush!
You won't receive an invoice until your order ships.
To order, choose the method that's easiest for you:
Shop online at DickBlick.com
Fax your order to 800-621-8293.
Email your order to orders@DickBlick.com.
Call us at 800-447-8192. We're ready to take your order 24 hours a day, seven days a week.
Q & A
How do the different blocks for block printing compare? Click here for a great comparison chart that explains the differences across the printing blocks we carry. While this may not answer all your questions, it will be a greate places to start! If a hands-on comparison is needed, contact our Product Information team at info@dickblick.com or 800-933-2542 to request specific sapmles, most of which we can provide.
What is the best way to store markers? For alcohol based, water based, and most paint based markers, the best way to store them is on their side. This is especially true with double-ended markers. It keeps the ink in the center of the pen and both tips moist. If left on either end, the ink/paint is likely to leak out and the upper tip will dry out. If a double-ended marker has been stored on an end, place the marker on its side and try using it again in a few days. The ink should redistribute by then.
What is the difference between gsm and lb weights for paper? There are two different ways to measure paper. The American way is to take the 'common' size (unfortunately not consistent between types of paper) and weigh 500 sheets. This does not give an accurate means to compare different types of paper to each other. GSM stands for Grams per Square Meter. This is the metric (European) way and is a consistent way to measure different types of paper. For all paper, regardless of type, 1 square meter of a sheet is weighed. Therefore, if you are comparing the weight of a watercolor paper to a drawing paper, look at the GSM and not the LB.