Teacher News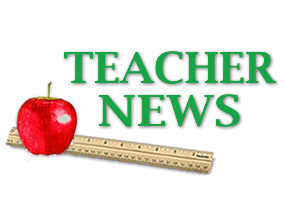 Teacher News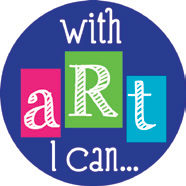 "With Art I Can..." Mixed Media Contest Awards Announced
Congratulations and many thanks to all participants in this art advocacy celebration. Click here to view a gallery presenting all 2015 Gold and Silver Awards.
Details and rules for entering Blick's 2016 "With Art I Can . . ." Mixed Media Contest will be available in our 2016 Materials for Art Education catalog and on this Teacher News page in December 2015.
"With Art I Can..." Mixed Media Contest is Open for Entries
Students in grades K-12 are invited to express their experiences and accomplishments gained through art — a chance for students to speak out as art advocates through their artwork and their voice! Entrants will complete the sentence "With Art I Can...".
Entries must be received by April 15, 2016
$3,000 in Blick gift coupons will be awarded to Gold and Silver Medalists and their schools. Teachers of all entrants will be entered into a random drawing for a $200 gift coupon for his or her school.
Click here to receive your free set of Art Advocacy posters featuring artwork and statements by 2015 contest award medalists.
Click here for complete contest details and rules, and to view the 2015 award gallery.
Congratulations to Blick's 2015 NAEA Convention Grant Recipients
Blick congratulates Joan Hebeisen from Mora High School in Mora, MN, and Sidney Allen from Wendell Phillips Elementary School #63 in Indianapolis, IN. Grant recipients were drawn from more than 2,000 entries submitted at the Blick Art Materials booth at state art education association conferences in the fall of 2014. Joan and Sidney each receive:
Registration to the National Art Education Association Conference in March 2015 in New Orleans, Louisiana
4 nights lodging
Travel and daily expenses
The estimated total value for each grant is $2,000.
A drawing from entries received at Oct-Nov 2015 AEA conferences will be held to award similar grants for attending the 2016 NAEA Convention in Chicago, IL, March 17-19.
Fall 2015 Lesson Plan Brochure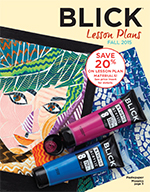 Check out 14 new Blick lesson plans for K-12 education — you'll find something for all ages, skill levels, and budgets. Request a free copy by emailing info@dickblick.com. Type "Fall 2015 Lesson Plan Brochure Request" in the subject line, and be sure to provide your name and complete mailing address in the body of the message. Or, to download free PDFs of the lesson plans, click here.
Blick offers 'Future Orders' option for educators and schools

A great way to get the supplies you need, when you need them!
Blick's "Future Order" program makes life easier for educators and schools. "Future Orders" is an ordering and payment option that encourages educators to order the supplies in advance of the next semester. Just imagine — no scrambling at the beginning of a new semester to make sure you have all the supplies you need!
Blick's Future Orders program offers two primary advantages:
Product availability is much better when you order in advance.
Because no payment is due until your order ships, your future payment obligations align with the upcoming school year.
Here's how future ordering works:
Put together your supply list before the end of the current semester.
Include the date you'd like your order to ship — this is your "future ship date." If ordering online, select I would like this order to be billed and shipped to me at a future date at the Shipping & Delivery screen.
Blick will pack and hold your order until that date — helping you beat the new semester rush!
You won't receive an invoice until your order ships.
To order, choose the method that's easiest for you:
Shop online at DickBlick.com
Fax your order to 800-621-8293.
Email your order to orders@DickBlick.com.
Call us at 800-447-8192. We're ready to take your order 24 hours a day, seven days a week.
FREE Art Advocacy poster set featuring student artwork and messages
Three 16" x 20" full color posters featuring artwork and statements by award medalists in our 2015 "With Art I Can . . ." contest are available to teachers (limit of one set each, please) by emailing info@dickblick.com. Type "Art Advocacy Posters Request" in the subject line and provide your name and complete mailing address in body of the message.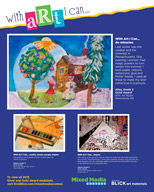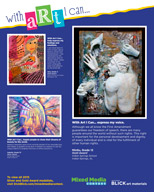 US Senate names Arts and Music as core subjects
The US Senate recently passed the Every Child Achieves Act (S. 1177) and within named music and arts as core subjects, a momentous step toward ensuring that all students experience the educational value of the arts in addressing the national problem of the narrowing of curriculum that has taken place under the No Child Left Behind (NCLB) legislation. Supporters of the arts are now encouraged that the two-chamber committee process of the US House of Representatives and the US Senate will include the arts in the final version of legislation. Read more at http://theodysseyonline.com/unr/senate-passes-act-that-the-arts-are-core-subjects/127337.
IL Tollway Map Cover Art Contest
The Illinois Tollway, Blick Art Materials, and MB Real Estate (MBRE) invite high school art students to participate in the 2016 Tollway Map Cover Art Contest. High school students throughout the region may submit original works of art and join the Illinois Tollway's efforts to promote conservation of monarch butterflies, the state insect of Illinois. Students may choose to illustrate:
The importance of monarch butterflies to our environment
The use of land along interstate highways to provide a food source and refuge for monarch butterflies through Northern Illinois
Art contest entries will be accepted Sept 1 – Oct 2, 2015. Artwork created by the grand prize winner will be featured on the cover of the Tollway's 2016 map, which is distributed at no cost to more than 125,000 customers. Three runners-up will be featured in the Tollway's annual report. Awards include:
Grand prize winner: $400 gift certificate from Blick Art Materials and $200 in gift certificates from MBRE to use at oases retail shops and restaurants
Runners-up: $200 gift certificate from Blick Art Materials and $100 in gift certificates from MBRE
A certificate of appreciation for all students who participate in the contest
Acknowledgment of winners at the Illinois Tollway Board of Directors meeting on November 19, 2015
Bob Buchsbaum, CEO of Blick Art Materials, expressed that "Blick Art Materials is pleased to support the efforts of student artists to promote the restoration of monarch butterfly habitats along the Illinois Tollway system. We are always impressed with the creativity of the participants in the art contest and are particularly excited about this year's contest theme."
Contest rules and all required entry forms are posted on the Tollway's website at www.illinoistollway.com.
Q & A
How much clay should I order?
For ceramic and air dry clays, a pound of clay is roughly the same size as a pound of butter (4 sticks). So visualize and estimate about how many sticks of butter may be needed to complete a project(s).
What does the word "hue" mean as part of a color name?
Hue indicates that a substitute pigment is being used in place of a traditional or named pigment. So, for example, Cadmium Red Hue uses an alternative pigment, not Cadmium Red pigment. Most commonly, toxic and costly pigments will be replaced by non-toxic, inexpensive alternatives. Although hues don't exactly duplicate the named color (the opacity, color, and mixing properties won't be precisely the same) --- hues do provide a similar color substitute at a more accessible price.
Is brush brand X the same size as brush brand Y?
Not necessarily. Unfortunately there is no universal standard followed by all brush manufacturers. So, a size 2 brush is not necessarily the same width or length in all brands. To avoid any surprises, compare the actual dimensions given in each brush's description to ensure you select the size you intend.