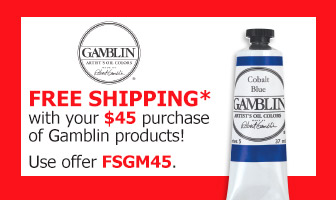 *Exclusions apply, click here for details.
____________________________________________
The Gamblin Company was born in 1980 in a small garage in Portland, Oregon, where Robert Gamblin spent nine months mixing batch after batch of oil paint by hand.
What inspired him? After completing his post-grad work at the San Francisco Art Institute, Gamblin realized he still knew next to nothing about paint — and he didn't believe many of his fellow painters did either. This realization spurred a deep desire to create his own oil colors, in order to gain an understanding not only their technical properties but of their emotional resonance and historical significance as well.
Robert Gamblin is evangelistic about creating painting materials with the health of both painters and the environment in mind. For example, Gamblin was the first to develop Gamblin Flake White Replacement, a color true to the properties of traditional Flake White and completely free of lead. Gamsol is the industry's leading odorless mineral spirit alternative and is also the basis for many other non-toxic favorites such as Galkyd Mediums and Gamvar Picture Varnish.
After more than three decades of inspired paint making, the Gamblin Company has grown to become the largest manufacturer of oil paints in the United States. Still based in Portland, now in an eco-conscious, wind-powered factory, Gamblin products continue to be lovingly crafted by hand using the world's finest raw materials.