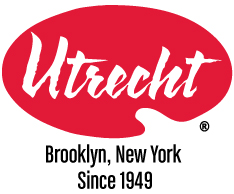 Shortly after World War II, with the American art supply business still in its infancy, a Brooklyn-based painter named Norman Gulamerian set out to find affordable, high-quality linen canvas, but was unable to find any in the city. Recognizing that other artists must also be seeking fine linen, he joined his brother Harold in sourcing it directly from Belgian mills — and a legendary American brand was born.
Following the success of Utrecht's linen trade, Harold Gulamerian developed the first formula for Utrecht Acrylic Gesso. A revolutionary product, it introduced unprecedented simplicity to the canvas preparation process, while also making it possible to paint on a huge range of surfaces. The Gulamerian brothers then went on to open the Utrecht Paint Mill in the 1950s, where Harold used his mastery at developing and refining formulas to produce the original line of Utrecht Artists' Acrylics — one of the first acrylic lines in the world. This was soon followed by Utrecht Artists' Oils and Utrecht Artists' Watercolors.
Today Utrecht paints are still handcrafted in Brooklyn, using only the finest pure pigments. Although they are professional quality, their affordable price makes them a great choice for painters of every level, including beginners and students. Try them and discover why they're a favorite among artists worldwide.